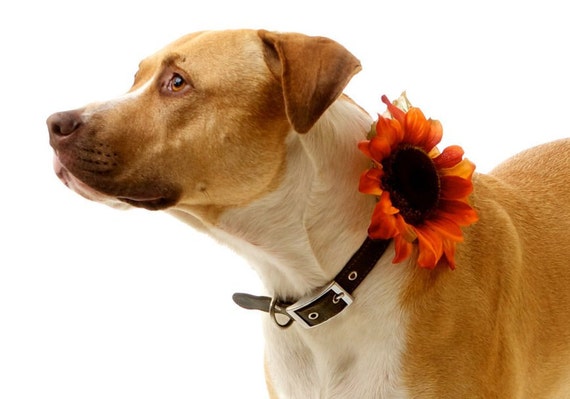 People Who Liked
Source
http://www.etsy.com/listing/84078266/russet...
Russet Sunflower: Red and Mustard Floral Collar Corsage for Dogs- Wedding, Easter, Adoption Event- teamcamelot
? This listing also includes a donation of $2.40 to the homeless and abandoned pets at the Riverside City Animal Shelter. ?

Are you trying to find just the right way to integrate that four-legged family member into your unconventional wedding party? Ring Bearer? Flower Girl? Bridesmaid? Groomsman? Whatever the job, our Russet Sunflower Collar Corsage will have your pup stepping out in style on your big day.

This beautiful floral corsage is also an excellent way to put that extra special "huggable" finish on your rescue dogs at an adoption event. Who could say no to a friendly face set off by an adorable, over sized sunflower? For a more classic sunflower, check out our Golden Sunflower listing: http://www.etsy.com/listing/84112146/golden-sunflower-bold-rustic-sunflower?ref=pr_shop

The Russet Sunflower measures approximately 5" in diameter. Our Collar Corsages are fitted with elastic fasteners to allow for a flexible fit on most standard collars. Thinking that maybe yours isn't standard? Let us know, and we will be happy to customize the bands for a perfect fit for your pup.

Made to order. Please allow approximately up to 5 days for construction. Order ship via USPS.


Thanks for shopping handmade for your best buddy this holiday season, and for your contribution to homeless and abandoned pets everywhere!