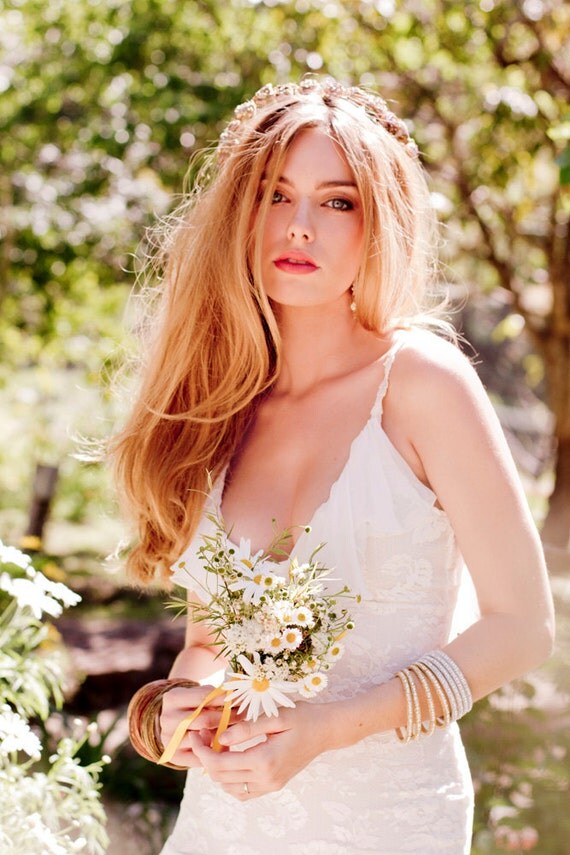 Source
http://www.etsy.com/listing/87392789/romant...
Romantic Flowey Bohemian Vintage style wedding dress, scooped back frill
Marisol

The perfect combination of sexy and sophisticated, this dress is one of our favourites! Featuring a stunning low back and silk chiffon scooped bust line with 'leaf' embroidered straps. The floaty silk chiffon skirt adds to its natural and effortless glamour. Stretch lace.

All sizes available www.graceloveslace.com.au

Colour; Ivory
Fabric;French lace, silk chiffon, embroidered straps.

Wear with Charlotte or Paloma headpiece xx

$900.00

Please note that your size and height is confirmed immediately after ordering and payment.

We have tried to cover everything below, for further questions/info please email and we promise a quick response xx

Sizing;
All of our dresses are made-to-order and sized ready-to-wear, specific size changes and notes will be made upon ordering to ensure a good fit. We use stretch laces where fitted, and we have carefully selected designs and fabrics that are very good fits for all body shapes.
They come in sizes XXS, XS, S ,M, L, XL (Australian size 6, 8, 10, 12, 14, 16) If you are between two sizes we recommend purchasing the larger size to be safe. Please see the size chart for global size conversions (http://graceloveslace.com.au/info/ ). We request each customers HEIGHT in centimetres upon ordering (by email)- this ensures the correct proportions. (Please remember when giving us your height that it should allow for your shoes). Our dresses should need minimal or no alterations as long as you order the correct size- if you are concerned about choosing your size please email us and we will phone/email you to confirm it. If you have a specific request on a design you want please email us :)


How long does it take to send my order?;
All dresses and accessories are made-to-order and require 1-3 weeks to send. In urgent cases please email us with your required date and we will see what is possible.