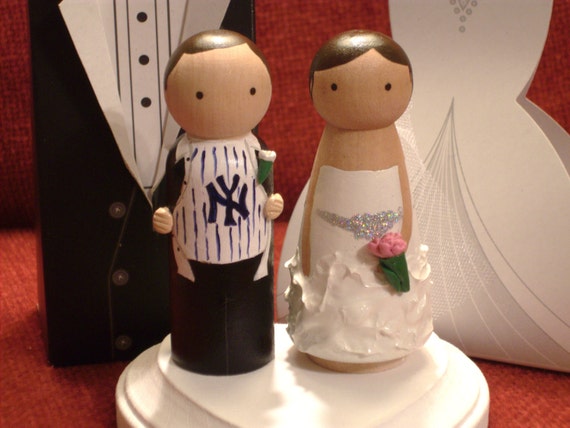 People Who Liked
Source
http://www.etsy.com/listing/82030321/new-yo...
New York Yankees Sports Theme - Choose your Team Custom Wedding Cake Topper-Personalized for You with 3-D Accents
Every guy wants to be a famous sports player or huge sports fan and this one got the girl! Notice how the sportsfan is using his hands to peel off his jacket revealing his favorite team underneath. The details are incredible.

This is a listing for custom cake topper with a Sports theme. Choose your favorite Sports Team and I will create it for you.

This couple will be a special topper on any wedding cake. It is also perfect for head table or make the perfect wedding or anniversary gift.

The couple is personalized to resemble the bride & groom... I create a miniature version of you!

You may purchase this listing and give me the info to customize.
Let me know if you have a special request for your wedding topper or memory keepsake.

Each topper is a tad over 3.5" and will arrive in keepsake packaging.

The base is not included. If you would like a painted cake base please see add the following listing to your order and you will save on shipping.

http://www.etsy.com/listing/70139833/painted-wooden-bases-for-bride-and-groom

Please help me customize your topper just as you want by copying and pasting this info into a convo or notes to seller. If you have a web link you want me to look at please copy this into a convo. Links will not work in the notes to seller. Thanks so much! I want to make these perfect for your special day!
1. Wedding Date – I want to get your topper to you in time for your big day? :0)
2. Hair Color and Style of the bride – long, short, curly, up do, up on left, up on right?
3. If you are wearing a veil? flower? or feather? in your hair where do you want it located?
4. Dress color – ivory? White? Anything other color? Details you want included (glitz, flower?)
5. Dress Neckline – sweetheart? Straight? V-neck? Halter? Strapless?
6. Bouquet color
7. Bride's eye color
8. Groom's eye color
9. Groom's hair color and style – part?
10. Color of tux? Shirt? Vest? Tie? Bowtie? Pocket square? Boutonniere?
11. Glasses for bride or groom?
12. Groom's facial hair? Beard, mustache, goatee?
13. Attach a picture of the sports team logo in the conversations.
You can send descriptions only or you can attach photos in the convo section. If you are requesting animals I prefer photographs. All of this will help me create a forever keepsake. Thanks so much for allowing me to be a small part of your special day!